August 13, 2019
Beginning our journey over 18 months ago, we never could have imagined the impact a single expedition would have on my life nor the positive change it would trigger in us. Receiving the opportunity to travel to Cambodia and Laos with 16 other amazing girls and 3 truly inspiring teachers is something we're thankful for every day. It is such a privilege to say, at 17, we were part of a group that trekked through the remote jungles of Laos, across streams and up mountains, through the Xe Pian jungle. Sleeping in hammocks, completing long treks and indulging in hidden, natural waterfalls we combatted our struggles as a team and grew closer, all the while singing at the top of our lungs Christmas carols. we have learnt the true meaning of hospitality generosity, positivity and love from a people that have next to nothing. We were welcomed into the homes and lived in a tiny village with a beautiful Laos family and were called 'luksav' or daughter by them. we can say with absolute confidence that each and every one of us has gained a new appreciation for life and a gratitude for everything we may previously have taken for granted.
We could talk for hours about the breathtaking waterfalls, the extraordinary and time-defying temples as we watched the sunrise over the sensational Angkor Wat Temple with such a breath-taking view. It instantly became one of the highlights to a wonderful adventure as was the joviality with which the Cambodians live. But saying that was all that made this spectacular trip unforgettable is a great injustice to the people we went with.
We have said this trip was amazing, but we have also mentioned that it was life-changing, and for it to alter our lives so dramatically we had to face many challenges. There were certainly times where we struggled; sometimes we needed a cry, or perhaps we felt like falling down and giving up. However, there was always a kind shoulder for those heavy heads to rest upon and a supportive hand to pull us back to your feet again. Experiencing these things with these girls has proven to me the pure goodness of which all humans are capable. When it came down to it, each and every person on this trip cared more about the person standing next to them than themselves and that was evident in the sacrifices everyone was willing to make. The caring and understanding nature of this group made us a family and ensured the trip was full of tummy-aching laughs and endless memories.
It is impossible for us to talk about this trip without mentioning the awe-inspiring teachers that accompanied us from St. Aloysius. Our team leader, mentor and overseas 'grandpa' Mr Brown was incredible and it is with 100% certainly that I say we would not have survived this trip without him. His endless advice, positivity and 'Don't Worry Be Happy' renditions were occasionally the only things keeping us sane. Alongside Brownie were Ms Duffy and Ms Gould. These women were absolute inspirations, constantly motivating us, pushing us when it was necessary and gently guiding us when we needed it. The humour, wisdom and comradery of all the staff gave our trip so much more meaning.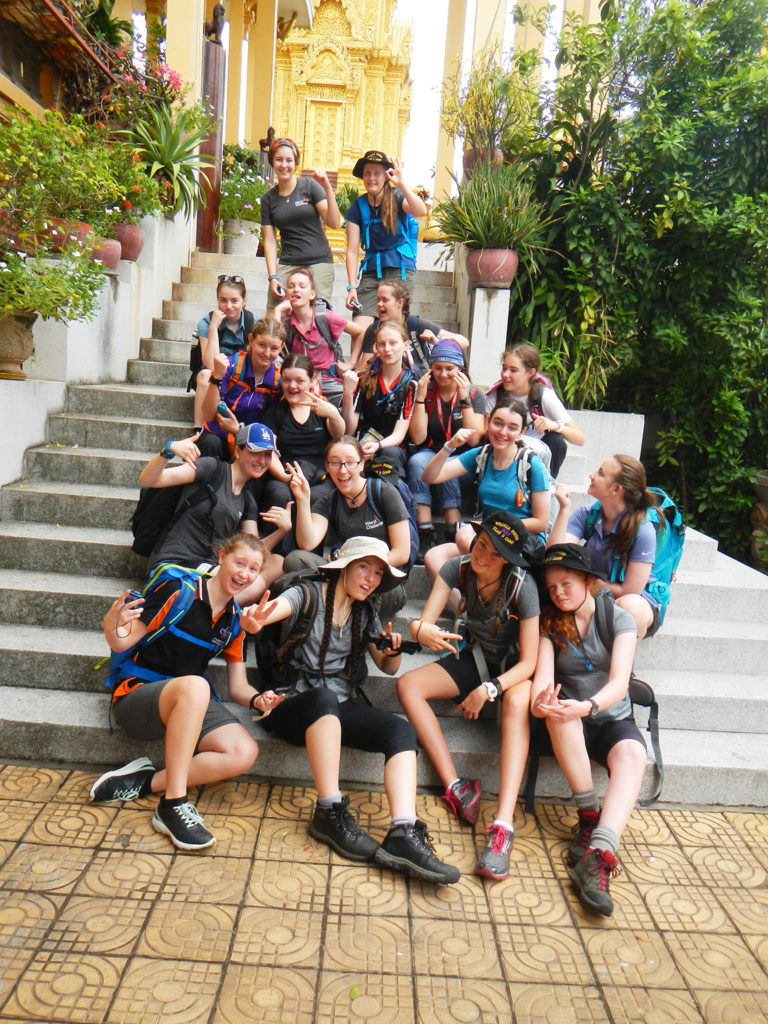 Embarking on this journey not only immersed us in a completely different culture but allowed us to discover the true meaning of being part of a mercy community. We learnt hospitality from the village people who welcomed us into their homes with open arms and warm hearts. We learnt respect from our guides and leaders who always gave us all their time and attention, constantly putting our needs before their own, no matter our age, gender or beliefs. We learnt justice from their brutal history. Through exploring their harrowing and horrific past, then discovering the incredible way they moved past it and decided how they would treat each other, with equality and peace.
We learnt service from the individual people we met every day and perhaps only talked to for a several minutes, never to see them again. These people inspired us with their stories of charity and dedication to helping others. Finally, we learnt compassion. This essential trait we learnt from each other, watching as we grew and challenged ourselves to be better and more merciful people; people who see something wrong and do not hesitate to help. These are the people who will create incredible change.
World Challenge expeditions not only establish extraordinary bonds between a group of diverse girls and create amazing memories, but it also builds leaders. We will be women whom I know will do amazing things in the future. Thank you so much to St Aloysius College, World Challenge and Mr Brown for the journey of a lifetime.
Kate Roocke (12CW), Adele Karpluk (12RT).